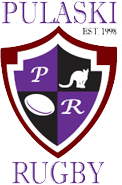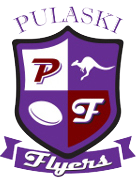 2020 Rugby Season is Here!
BOYS
register under
Pulaski Roos

GIRLS
register under
Pulaski Flyers

MIDDLE SCHOOL
register under
Jills and Bucks

Be sure to register
as a player.
ALL PLAYERS
need to register at usarugby.org


Players-parents and Fans. Please follow our facebook page (link below) and this web page for updated schedule.


Thank you to M&L Excavating for a full jersey sponsorship!

About Pulaski Rugby
The Pulaski Rugby Team

is a self-funded high school aged rugby program based out of Pulaski, WI. The club has been running for 19 years and in that time we have circulated over 1,200 young athletes through the Pulaski Rugby program.

On the boys' side, the team started with just the Roos but went to a two-sided program because of the great turnout at tryouts. We do not cut any player that wants to play rugby, they are guaranteed to be on one side and get playing time. We promote a team atmosphere where each player brings value to the team. Fran Brunette has been the head coach since the creation of this program and along with his coaching staff, which includes Cole Coopman, drive these young players to not only be better on the field but better off the field as well.

We've had much success and bring a great deal of spectator traffic and positive attention to the Pulaski community through our program. We have had the ability to host many tournaments, including the State tournament in 2002, 2009 and 2013. The Roos have won the state title in 2009, 2010, 2014, 2015 and 2018. Our 2015 season saw yet another key growth point when we added our girls team; the Flyers. This team is coached by Fran Brunette, Emily Gazella, Kortney Krueger, Cassi McQuillan, Matt Peterson, and Claire Tomashek. We are excited to see this third team in our organization take off as the other two have.

The girls' program is off to a great start having appeared in the state tournament all three years of existence. Strong leadership at the beginning allowed the Flyers to have a successful first year and has set high expectations for the future of the program. As we continue to grow our new program, we are always looking for more athletes to join, no rugby experience necessary. Synonymous to the boys' teams, every player gets playing time and is a valuable part of our program. We are anticipating great growth and success in the Flyers' future as we continue to represent Pulaski Rugby well.

In 2016 the Roos were part of the first 7s series called Wisco 7s. Our girls will be part of the first spring Wisco 7s series in spring. Coach Fran was a key player in getting this program up and running. It was very successful and we hope it only grows from here.

Our Pulaski Rugby organization has also introduced a Middle School program for 7th and 8th grade girls and boys; the Bucks and Jills. This is new to our 2017 season and will take baby steps to get it moving. We encourage this younger generation to come out and start learning the game because it will strengthen our high school programs that much more.

We are very proud of our achievements and the hard work of a lot of people connected with the club that has led to off the field success as well. The coaching staff is not only out there to make these young people better rugby players, but better individuals as well. The team has participated by donating their time to the Adopt a Family Program at Christmas, Rebuilding Together, helping those who need it in the Pulaski community, The Polar Plunge for Special Olympics, and donating to the Humane Society.

With being a self-funded club, comes many expenses in which we are responsible for. We do many things to raise money for our club to cover the costs of registering our teams each year, new shorts and socks each year, equipment for training, referees, trainers, lodging and travel. We do a team rummage sale in partnership with The Watering Hole, booyah sales, as well as selling sponsorship locations and raffle tickets. We have also taken on the responsibility of running a food/beverage booth at Lambeau Field during Packer games.

Our home field has been anywhere from the polka grounds to the high school to The Watering Hole. Since 2015 our home field has been right behind the airport in Pulaski, which is land owned by Doug McKeffry – President at Competitive Sewer and Water. He has donated the use of his property allowing us to develop the fields, practice and play our matches. Without his property, we would have nowhere to call home, so please thank him anytime you see him!

Thanks for your interest in Pulaski Rugby – we hope to see you at a match or two!